Concept Plans for the Central Cape Area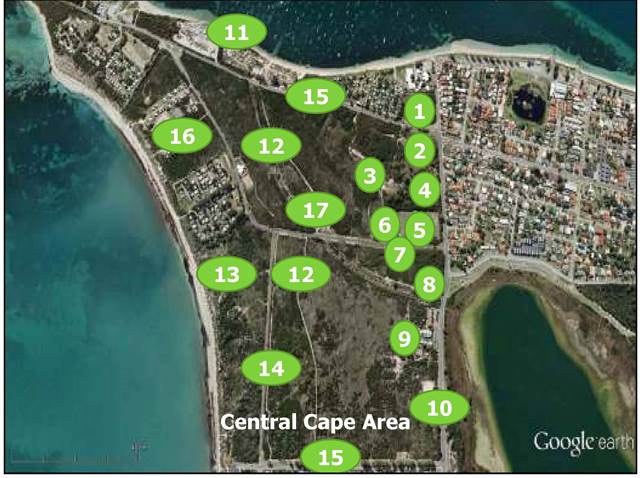 Youth Recreational Area.

Youth facilities such as:




(a) a skate park,




(b) basketball court and




(c) BMX track.




Corner Hymus Street and Point Peron Road.

Tuart Walkways.


A botanical garden, incorporating the existing rare stand of Tuarts and Threatened Ecological Community of Rottnest Pine trees, connected by walkways, and including:




(a) a coastal plant nursery,




(b) a touch/interactive garden,




(c) a sensory garden,




(d) a native garden, etc.




Immediately north of Peron Park (corner Point Peron Road and Safety Bay Road).

Aboriginal Circle and Important Aboriginal Areas.
A dedicated area acknowledging the culture, history, art and stories of the original people. Designed as a circle around a symbolic fire and with interpretive signage.

Café.


Positioned to service the botanical gardens, family recreational area, adventure playgrounds and environment centre similar to those in King's Park.




Keep facilities to service visitors (such as cafes/tourist shop) close to Safety Bay Road for accessibility of the public and preservation of the park.

Adventure/Nature playground.


Built into and utilizing natural features of the park. To include interactive and disabled areas and be constructed in the degraded area immediately west of Peron Park.

Carpark.
A carpark to service Peron Park (Family Recreational Area), the Adventure Playground, Lake Richmond and walk/cycle trails on Southern side of Memorial Drive where there is existing space between the bushes. 

Walk/Cycle Trails.


Use existing firebreak and walk tracks as much as possible including the Lake Richmond overflow culvert which would link to the Lake Richmond Environment Walk. Trails between tree stands and native vegetation would link the Youth Recreational Area, Tuart Walkways, Café, Family Recreational Area, Adventure playground, Community Entertainment area, Point Peron, Lake Richmond and other walk/cycle trails.

Rockingham Regional Environment Centre.


Maintain, upgrade and promote the Environment Centre in its current location.

Fishing and Yacht Clubs.


Work with the clubs in collaborative communication to beautify, upgrade facilities and meet their needs in keeping with a world class park.

Conservation Reserve.


Preserve the area west of the above developments as a Conservation Reserve to conserve the coastal vegetation that is home to a variety of birds, reptiles and small mammals. Remove non-native species of flora. Restore and retain coastal native vegetation.

Walk/Cycle Link.


Extend the current walk/cycle path that runs from Port Kennedy around Shoalwater Bay through the sand dunes west of Lease Road and along the northern side of Memorial Drive, around the Family Recreational Area and Tuart Walkways to Hymus Street so as make a walk/cycle link from Port Kenendy through to Rockingham Beach Foreshore Precinct. An extension would link to Point Peron.

Lease Road Closure.


As part of the Scenic Coastal Drive (Route 202), close and remove Lease Road as this (a) does not service any homes or facilities, (b) is subject to 'hoon' behaviour, (c) is scenically uninteresting and (d) unnecessarily divides the Conservation Reserve.

Scenic Coastal Drive (Route 202).


Reroute the scenic coastal drive (slightly) along Rockingham Beach Road, the Esplanade, Point Peron Drive (to the tip of the point), continuing back along Memorial Drive (to the Family Recreational Area, Adventure Playground, Tuart Walkways, Environment Centre, and Lake Richmond) to Safety Bay Road, Boundary Road, Arcadia Drive and reconnecting to Safety Bay Road.

Vacated Lease Sites.


Remove old abandoned asbestos buildings and restore conservation area.

Richmond Drain Restoration/Enhancement.
Potential to conduct some earthworks along this man-made water course to enhance ecological function and aesthetic appeal. Such modifications could include things like riffles, meanders and creation of 'dampland area'. Benefits of these works will include soil water retention, habitat creation, biodiversity increase, and more nice places to go.