Marina re-zoning proposal 'misleading and deceptive' says HOPP
18 August 2015
Hands Off Point Peron spokesperson Dawn Jecks has accused the state government of misleading the public about the government's controversial proposal to build an inland marina in the regional park at Point Peron.
'We believe that the government is badly misleading the public, and the WA Planning Commission's recent proposal to amend the Metropolitan Region Scheme to allow for the 'so called' Mangles Bay marina adds to our grave concerns about the integrity and fairness of the planning process for Point Peron. The government has always claimed the marina is the reason and justification for the development. But it is now clear that the government plans to re-zone the land 'Urban' to allow LandCorp and Cedar Woods to bulldoze and sell off the land for housing without building a marina and without any guarantee they will ever build the marina. The level of government misinformation is really shocking' said Ms Jecks.
'We are advised that because the marina would have to be built using 'wet construction' dredging methods it would be extremely costly and only feasible with very heavy government subsidy. However, the government has said it definitely won't subsidise the marina.  This means that the construction could only commence in several years time if the sale of the housing lots raises enough money (which we are told is unlikely) and then only if LandCorp and Cedar Woods are willing to sink their profits into such a high-cost, high-risk venture.
 Unfortunately the government is not telling the public the truth about any of this and continues to promote the marina as the key reason for the development, even though LandCorp's primary objective is to get its hands on this prime public land in the regional park and sell it off for housing. 
 If this shonky development is allowed to proceed it would destroy the great opportunity we have to create a world-class coastal park at Point Peron and the enormous economic and environmental benefits that would bring – all for the sake of a housing estate and the unfunded and undeliverable promise of a marina.  This would amount to an appalling swindle and we intend to do everything in our power to stop it.
 See WA Planning Commission proposal here  http://www.planning.wa.gov.au/publications/7917.asp
For further information: Dawn Jecks 0424 598 656
……………………………………………………………………………………..
Public meeting in Subiaco to save WA's iconic Point Peron from developers
27th July, 2015
Members of the Rockingham community are appealing for help from the western suburbs to save Point Peron and an endangered colony of Little Penguins from developers.
Hands Off Point Peron will outline its alternative vision to turn Point Peron into a world-class conservation and recreation park at a public meeting in Subiaco on Wednesday August 5 at 7.30pm.
HOPP spokesperson Dawn Jecks said Point Peron belonged to all West Australians and should remain in public hands.
"Landcorp and private developer Cedar Woods want approval to sell a large amount of coastal bushland in the regional park at Point Peron for housing, and have plans for a massive and costly inland marina on the land. " Ms Jecks said.
"This development, if it is allowed to go ahead, would cause great environmental damage and take around 20 years to construct. It threatens to destroy the value of Point Peron and puts at risk the Little Penguin colony and the rare and endangered ancient thrombolites of nearby Lake Richmond.
"We have developed an alternative plan for a world class coastal park, consistent with the original purpose for which the land was set aside for the public. Our plan is far more cost effective, more valuable to the economy of Rockingham and the state and will provide a fantastic recreational resource for the entire metropolitan area.
"Point Peron is close to the hearts of many West Australians and for this reason we are calling on people across the metro area to join us in this campaign to protect our unique and valuable environment and to endorse our vision for a coastal park for the site.
"The people of the western suburbs will benefit from their proximity to Point Peron if our plan to turn it into a conservation and recreation park proceeds. Our plan will provide generations of West Australians with a magnificent coastal park while at the same time helping to protect our wonderful Little Penguins and our valuable thrombolities."
Ms Jecks urged everyone to come to the public meeting on Wednesday August 5 at 7.30pm at the Palms Community Centre, crn Nicholson and Rokeby Roads, Subiaco.
"This is a state issue so we are taking our case for an alternative vision for Point Peron to the western suburbs and beyond. We need to let the state government know that selling off public land and destroying rare and endangered creatures for the sake of yet another housing estate and the dubious promise of an environmentally destructive inland marina is not something we can afford or will accept.
"Please join us to hear the community's exciting vision for Point Peron. Together we can stop this unsustainable, costly and environmentally destructive development and instead see Point Peron turned into a conservation and recreation park for all people."
For further information: Dawn Jecks  0424 598 656
……………………………………………………………………………
Point Peron Inland Marina Development Raises the Spectre of WA Inc
Monday May 4, 2015
Hands off Point Peron has called on the state government to make public all documents detailing how a controversial inland marina canal development on public land at Point Peron will be funded.
The calls come in the lead up to the release by HOPP of an alternative plan for the site that would see it turned into a world class tourist park based on conservation, recreation and the protection of military heritage on the site.
HOPP spokeswoman Dawn Jecks said the community coastal park plan, to be released on Thursday May 7, followed months of community consultation and would attract far more tourists to the area than LandCorp's proposed canal style housing and commercial development, which was expected to take up to 20 years to build.
"The public is being kept in the dark about where the money to develop the so-called "Mangles Bay Marina" on Point Peron is coming from. This is a very expensive wet construction project that we understand has yet to be properly costed.
"The rationale for this project on public land has always been the development of an inland marina yet it now seems that the marina may not even proceed due to its high cost but the private housing subdivision project may," Ms Jecks said.
"We understand that there was never even a public tender for this project, simply an expression of interest for a private company to take the running on what is essentially a government project. We want to know who stands to make money from this project, how much money, and who will end up paying.
"There seems to be very little transparency or public accountability surrounding the finances of this development. It is being pushed ahead at all costs without so much as a public feasibility plan or cost benefit analysis. What will it cost the taxpayer and what will it cost the ratepayers of Rockingham?
"Point Peron is an area of great public value as a recreation and conservation park and is loved by generations of West Australians for its natural beauty, wild areas and family space. It provides a much-needed area for nature play at a time when wild areas are fast disappearing.
"The land that has been earmarked for this canal development was given to the people of Western Australia by the Federal Government in 1964 on condition that it would be reserved for recreation and parklands and not used for private commercial or residential development.
"It belongs to the people and the people want it kept in public hands so that current and future generations can swim, picnic and enjoy the wilderness of this special place," Ms Jecks said.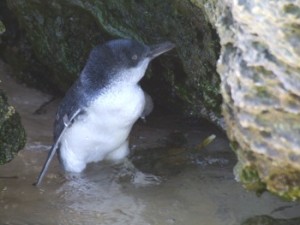 She said the local colony of Little Penguins, one of the main draw cards for international tourists visiting Rockingham, was directly threatened by the development.
"Independent penguin experts have warned that the canal development will likely have a major impact on the viability of the Little Penguin colony.
"The community's plan for the site will protect the penguins while developing the area into a Kings Park of the south."
The community's plan for Point Peron will be unveiled at a public meeting at the Gary Holland Community Centre, Rockingham on Thursday May 7, at 7.30pm.  Media representatives are urged to attend this landmark event.
Further information: Dawn Jecks 0424 598 656