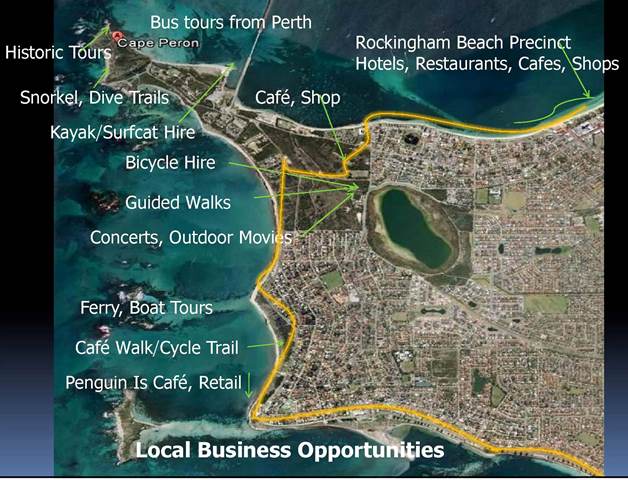 Increased tourism for existing cafes, restaurants, shops and businesses
Increased tourism seeking accommodation in the Rockingham area
Café/restaurant (managed by a current local restaurant?)
Café cycle/walk paths (Rockingham Beach cafes and restaurants, through Palm Beach, Peron Park Café and Pengos at Mersey Point on to Safety Bay and Port Kennedy).
Tourist information centre and shop.
Dive/snorkeling training, tours and hire (operated by local dive shops)
Guided coastal park walks
Bus tours from Perth (meals, souvenirs, accommodation)
Concerts (such as at King's Park and Supreme Court Gardens)
Outdoor movies (either commercial or charity)
Shoalwater ferry toursNB: Penguin Island alone draws 130,000 visitors per annum and $75 million to the Rockingham area. A world class coastal park will attract more people wanting to stay longer and spend more. By comparison, a park like King's Park is WA's number one visited site with 6 million visitors per annum.