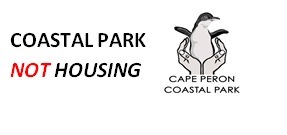 With the election of the McGowan Labor Government our biggest fear now is that our Point Peron public land including Bush Forever site 355 will simply be rezoned and bulldozed for a private housing development and nothing more.
We say this because Premier Mark McGowan stated publically in the lead up to the WA State election that he does not support the construction of canals HOWEVER he has never ruled out private housing and has avoided this question completely.
Given that all along it has been cheap/free public land that the developers have really been after it is crucial that the community now swings into action to say loud and clear that we want a 'Coastal Park NOT Housing' at Mangles Bay.
We are urging supporters to download this poster here as a a PDF for printing and to pin it up anywhere they can around town to help raise awareness of the very real threat of this area being turned into an exclusive private housing development and to demonstrate strong community support for a Coastal Park instead. This poster is also available here as a JPEG for sharing on social media